For a gift of $45 you will help us give the orphan the care it needs through providing food, enrichment and medical care during its rehabilitation. You will receive an adoption certificate, free entry certificate to visit your monkey when you can (both are valid for one year), a photo of your monkey, a factsheet with everything you need to know about your monkey and email updates on your monkey.
Mzungu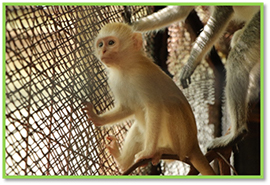 Mzungu's name was derived from the fact that he is special because he lacks pigmentation on his skin which makes him white. He was rescued from an apartment complex after a report was made of an abandoned infant monkey crying out in the compound. Currently, Mzungu has been integrated with other monkeys undergoing rehabilitation where make a strong bond with the troop.
Please CLICK HERE to adopt Mzungu!
Ndege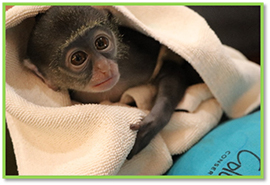 Ndege which means airplane in Swahili was brought to us from around the local airstrip. Sadly, the mother was killed by dogs leaving behind an orphaned, few days old baby. Fortunately, a well-wisher found her and brought her to the center. Ndege was very fussy and cried out a lot the first few days she arrived but now she is happy, playful, eating & growing bigger by the day and enjoys her precious moments with the branches.
Please CLICK HERE to adopt Ndege!
Jiwe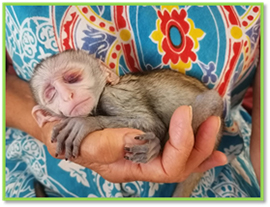 Jiwe arrived at our center at only four days old as a victim of human abuse. He was a survivor of a stoning incident that unfortunately lead to the death of his mother in a nearby village. He was introduced to a female monkey Mrembo who cared for him like a mother and this helped Jiwe cope better. Now Jiwe can forage on his own is completely weaned off baby formula.
Please CLICK HERE to adopt Jiwe!
Mrembo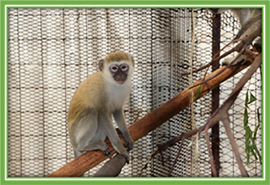 Mrembo which means beautiful in Swahili was rescued in one of the local villages in Ukunda. She had been spotted moving around with a 1-meter-long metallic chain-link hanging on the neck and limping from her injuries. Fortunately, a security guard from a nearby school spotted her and immediately called us to the rescue. Mrembo was in very bad shape; she had a fractured arm, swollen leg and injured tail to a point she could not even lie down. Now, two years later she has blossomed into a beautiful, healthy monkey responsible for caring for the infants, providing them with love and attention which is needed to survive without their mother.
Please CLICK HERE to adopt Mrembo!