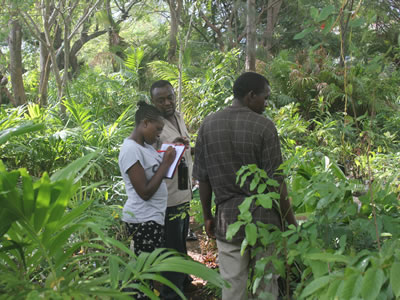 Colobus Conservation's community projects focus on achieving a safe haven for both the primates and humans living in Diani. We do this by promoting positive aesthetic interactions between the residents, local community and the primates.
With less than 400 Colobus monkeys left in Diani, it is vital for all the stake holders to come together to preserve this unique species and it's diminishing habitat. Colobus conservation prides itself in providing the resources, knowledge and advice, to the local community so they can play a part in monkey protection, increase in welfare standards, habitat preservation and ensure peaceful co-existence.
Although primates are sometimes deemed as 'pests' Colobus Conservation is working with the business owners, local communities and the residents to provide a pest prescription booklet which provides humane counter measures to prevent negative interactions between humans and primates.
Together with other wildlife stakeholders, the team makes regular visits to the community in an effort to raise awareness, and gain a better understanding of the challenges they are having with their primate neighbours. We are currently exploring ways by which the community, and Colobus Conservation, can jointly carry out projects that will not only socially support the community, but also raise a wider awareness around the importance of conservation of the primates in Diani and their habitats.