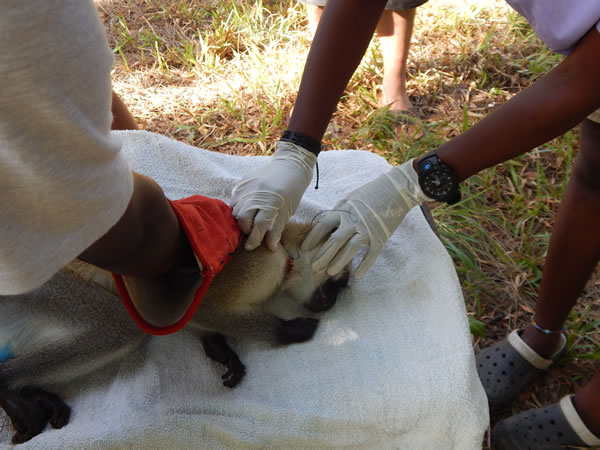 The main aim of the animal welfare program is to mitigate and lessen the negative impact that humans have on Diani's primates (Angolan Colobus monkeys, Sykes monkeys, vervet monkeys, Yellow Baboons). These negative impacts include injuries and deaths from road traffic accidents (usually hit and run), electrocutions, poisoning, dog bites and snares. One of our main aims is to rescue and rehabilitate primates and provide them with a second chance in life.

Colobus Conservation operates a 24 hour primate emergency rescue service within Diani, Kenya. The animal welfare team strives to respond to all cases within twenty minutes of them being reported. If an animal is injured in any way, we assess the situation and follow up to ensure that the treatment involves the least stress to the animal and is appropriate for the situation.

We quickly organise our team of trained staff; resident vet and the rescue equipment: portable cage, sheet, towel, tough gloves, sisal twine, fruit and maize bait, and the darting kit, darts and tranquilizer.

Injured monkeys are taken to our veterinary clinic at our rescue and rehabilitation centre where our Veterinarian assesses the monkey's condition and prepares it for surgery if required.

The center follows strict animal care protocols, with quarantine being an extremely important process. All animals brought into the center have to go through quarantine for a minimum of 90 days before introduction to center troops going through rehabilitation. This is the minimum time needed to test for diseases of concern, as well as time required for the animals infested with any disease of concern to manifest itself.